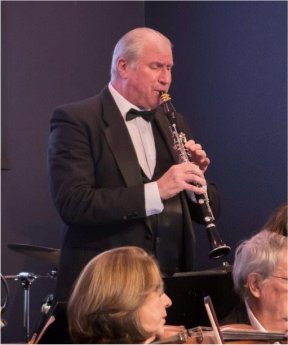 Michael Drapkin has enjoyed a career as a music performer, symphony orchestra clarinetist, composer, arranger, educator, music retailer/publisher, clinician and adjudicator. As a clarinetist, he was a member of the Honolulu Symphony Orchestra, as Associate Principal and Bass Clarinet, New York City Opera Touring Company as Principal Clarinet and Lake George Opera Festival (now Opera Saratoga) as Principal Clarinet. Drapkin has performed with the New Jersey Symphony, the Rochester Philharmonic, the Portland Symphony, the Long Island Philharmonic, the Brooklyn Philharmonic and with conductors Leonard Bernstein, Seiji Ozawa, Michael Tilson Thomas, Neville Marriner, Leonard Slatkin, Lucas Foss, Christopher Keene, Klaus Tennstedt, Frederick Fennell, and many more celebrated orchestras and maestros. He has spent summers playing at Aspen and at Tanglewood as a Berkshire Music Center fellow, and was solo clarinetist and Executive Director of Music Amici, Rockland County, NY's oldest professional chamber music group and one of the finest in the New York City area, and performed with them in Carnegie Hall. Drapkin currently holds the position of bass clarinetist with the Mid-Texas Symphony. Each fall he is a music judge and chief judge at high school marching band contests around the country for US Bands. He has also been concertmaster of five community concert bands. Mr. Drapkin is a Selmer Artist and performs on a beautifully restored Selmer-Paris Model 33 Low-C Bass Clarinet and an astonishingly beautiful Selmer-Paris Model 67B black bass clarinet.
You can hear many of Drapkin's performances at: www.drapkin.net/audio.
Mr. Drapkin is internationally known in the bass clarinet world as author of the Symphonic Repertoire for the Bass Clarinet series – excerpt books Volumes One, Two and Three, and his transposed parts books Volumes Four and Five, which were tested in 53 professional orchestras in the US ranging from the New York Philharmonic to the San Francisco Symphony, and internationally in countries ranging from Italy to Iceland. His books have become standard literature among orchestral bass clarinetists worldwide.
Drapkin founded and presented the Brevard Conference on Music Entrepreneurship (BCOME) for two summers at the Brevard Music Festival in North Carolina, attracting as attendees professional musicians, industry professionals, college music faculty and deans from as far away as Singapore. For BCOME, he was awarded $100,000 in grants from the Ewing Marion Kauffman Foundation – the nation's largest entrepreneurship foundation – and was one of their first music grantees ever. For his efforts with BCOME, Drapkin was a finalist for Best Non-Profit CEO for The Ten Awards – the "Academy Awards of New York Business," an annual selection of ten companies and individuals in the greater New York business community that display extraordinary leadership and innovation to improve their business. He has delivered keynote speeches, lectures and master classes across the U.S. including Eastman, Juilliard, Northwestern and Cal Arts near L.A., among others.
Drapkin served as a member of the Board of Directors of the Brooklyn Phil, which was the edgiest and most forward thinking arts-driving orchestra on the entire planet!
Following the Wall Street adage of eat what you kill, Drapkin developed his own band Yiddish Cowboys in Austin, Texas, which released a CD on iTunes. He featured them in the Classical Crossover showcase he ran for South by Southwest in 2010 and 2011, where he brought bands from around the world that are classically trained and have crossed over to the mainstream and brought their virtuosity with them.
Drapkin was an active scholarly member of the College Music Society, which represents college music faculty worldwide. He was appointed chair of their Careers Outside the Academy Committee three times for CMS, and led a pre-conference seminar for them in Atlanta. He also has been a member of the Board of Directors and a keynote speaker for their Southwest Chapter, and made presentations at the CMS National Conference annually for 13 years.
Michael Drapkin is a graduate of the Eastman School of Music where he studied with Stanley Hasty, toured Japan with the Eastman Wind Ensemble under Donald Hunsberger, and played Principal Clarinet in the Eastman Philharmonia under David Effron. He also studied clarinet with Gary Gray, Charles Bay and Harold Wright; klezmer with Sid Beckerman.
In addition to Drapkin's seminal books for the bass clarinet, he has been a prolific composer/arranger. His Suite of Old Yiddish Melodies for concert band was premiered by the Wind Ensemble at the North Carolina School of the Arts, his John Dowland Suite for Band was premiered by the Manhattan Wind Ensemble, his Gershwin – Walking the Dog for clarinet and band was premiered by the Rockland County Concert Band, The Rabbi Chaplain's March was premiered by the Navy Band of the West and has performed his Tempest Hora with numerous bands. He also recently completed his Der Rosenkavalier Suite for Band. Drapkin has been composing arrangements for two clarinets and bass clarinet since he was in college, and they span repertoire from orchestra, band, opera, marches and other genres, and have been published as two volumes across over 56 pieces, 12 books and 1400 pages of music. You can see all of his compositions at http://www.drapkin.net/compositions/
For more information, visit www.drapkin.net.